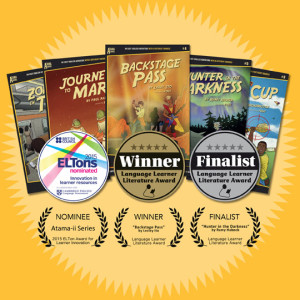 Atama-ii Books is an international publisher specializing in English language teaching materials. Our multi-path adventure graded reader series has won or been shortlisted for several of the top awards in the industry, including the British Council ELTons and the Language Learner Literature Award.
The company was launched in September 2013 via a successful Kickstarter crowd-funding campaign.
For more information about the reader series, please visit the series page. For other inquiries, please contact the publisher, Marcos Benevides, by email at: publisher(at)atama-ii.com
Our Kickstarter supporters:
We deeply appreciate the assistance of our earliest supporters on Kickstarter. In alphabetical order by first name (or alias), they are:
A-C: Aaron Schwartz, Adam Gray, Albert DeSantis, Aleda Krause, Ali Rose, Anand Guda, Andrew Boon, Andrew Nichols, Andy Lawson, Angela Desmarais, Antonio Ho, AZULEA, Barbara & John Burda, Barbara E. Dreher, Barbara Sakamoto, Ben Bertoli, Bernard Valvona, Beverley Firth, Beverly Whittall, Bill Pellowe, Brett Easterbrook, BrettW, Bryan Winzer, Bryant English, Caffeineforge LLC, Caroline Handley, Cassidy, Catherine Littlehale Oki, Catriona Chalmers, Charise Arter, Cheney, Chris Loeber, Chris Valvona, Chris Wood, Christian White, Christine Hamm, Christopher Wilson, Chuck Sandy, Clarissa Ryan, Corinne Shinozaki,
D-H: Damian Williams, Daniel J. Mills, Daniel Stewart, Darren Elliott, David Farnell, David Harrington, David Kawabata, Deb Milentijevic, Derek Arnwine, Devon Thagard, Diane Hawley Nagatomo, Dorothy Zemach, Dr. Automaton, Dubhgan Hinchey, Edo Forsythe, Eric M. Skier, Erin Alcover, Erin Sakakibara, Etsuko Nakamura, Gary Tennant, George Robert MacLean, Germain Mesureur, Ghiselle Camacho, Graham, Graham Jones, Grant Osterman, Hiroyuki Ito, Howie,
J-L: Jack Hathway, Jackson, James Broadbridge, James Ronald, Jamie Keddie, Jane Ireland, Janina Tubby, Jason Clarke, Jason Henwood, Jeff Herman, Jenn Fukuyama, Jennie Roloff Rothman, Jeremy Douglass, Jo Mynard, Joanne Greenhill, Joanne Sato, Jofre Buddemeier, John Racine, Jonah Glick, Joseph Flaherty, Joseph Paul Siegel, Joseph Poulshock, Josh Wilson, Judy Copage, Karenne Sylvester, Ken Mancy, Kevin Ballou, Kevin Hales, Kevin Ryan, Kim Horne, Kyle Smith, languagecaster.com, Laurine Kelson, Legends of Enlightenment, Lindsay Clandfield, the Lovric Family,
M: Malcolm Swanson, Marc Helgesen, Marcel Van Amelsvoort, Marcio Benevides, Mari Nakamura, Marie K, Marilda Benevides, Mark Bain, Mark Beese, Mark Firth, Mark Mino, Martin Kaiser, Mary Virgil-Uchida, Massimiliano Manera, Matt Shannon, Matthew Apple, Maurine Stenwick, Mayumi Tabuchi, Melodie Cook, Michael Free, Michael McDonald, Michael Rost, Michael Stockwell, Michael Stout, Michele Steele, Michelle Dervan, Mike Haverty,
N-R: Neil Hogan, Neil Ng, Nicola Prentis, Nicole Nijskens, Nik Peachey, Patrick Jackson, Patrick Taylor, Paul Boyland, Paul Raine, Peter Goosselink, Philip Shigeo Brown, Rachael Roberts, Ramy Habeeb, Richard Lemmer, Richard Turnbull, Robert, Robert S. Murphy, Roberto Benevides, Roehl Sybing, Rose Bard, Ryan Hagglund,
S: Samantha Kawakami, Samantha Perry, schi, Scott Gardner, Scott Thornbury, Sean Gallagher, Seth Cervantes, Shaeley Santiago, Shane Doherty, Shaun Wilden, Shihori Broadbridge, Shiihara Miyuki, Shumin Lin, Simon Robinson, Simon Weedon, Sophia Owens, squidamus, Stephanie Wagner, Stephen Brown, Stephen King, Steve & Shyana Quasha, Steven Herder, Steven Lord, Steven Nishida, Steven Watkins, Stewart Firth, Stuart Lloyd, Stuart Woodward, Sue Lyon-Jones, Sue Raine, Suzanne Soares Do Rego, Suzanne Williams,
T-Z: Tanya Ferguson, Ted O'Neill, Theresa Kannenberg, Theron Muller, ThomM, Tobey Kim, Toby Curtis, Tom Kenny, Tomoko Ikeda, Toshimitsu Masuda, Vestin, Vicki Hollett, William Baber, William Snyder, Wojciech, Yoko Masuda, Yoko Takano, Yukiko Watanabe, Yukinari Shimoyama, Yvonne A. Zayerz, Zacky Chun-pong Leung.