Submitting a proposal
All prospective authors must begin by submitting a story proposal. Please follow the steps below carefully. Submissions not in the requested format may not be considered. If you are not very familiar with multi-path stories, please read this short authors' guide before proceeding.
.
Step 1: Explain your story idea in two or three sentences.
Please do this via email to editor(at)atama-ii.com. Write your story idea in the body of your email, keeping it short and simple. For example:
My idea is for a story in which 'You' are a young soccer player representing your country in the World Cup. Your father is very sick, and the hospital bills are piling up. One day, you are approached by organized-crime types who want you to lose the big game on purpose. You will have a series of moral and ethical choices to make, some leading to fame and fortune, others to losing your career, and one or two to being 'disappeared' by the mob.
At this initial stage, our editors are considering two main issues:
Does the story fit within the scope of the series? That is, structure, plot, and theme-wise, is it the kind of story we can or want to publish? In the example above, 'You' are a soccer star, but that is impossible to write within our series, because our protagonists must be gender-neutral. Yet, since soccer is a gendered sport, player characters must necessarily be either male or female. Even if this could be made ambiguous in the text, it would still be impossible to illustrate ambiguously. So, no matter how interesting this idea may be, it simply cannot be written to fit into our series guidelines. Characters should also be age and race neutral as much as possible (some exceptions could be made here), so for example, a story in which 'You' are a high school student would likely not work either.
Do we already have a similar story in production? For instance, we do in fact currently have a soccer-themed story being written, and therefore would likely pass on another one–at least for the near future. We are currently looking for a wide range of different stories, and don't want too much overlap at first. The good news is that we consider many different genres: adventure ('You' are a pirate, a spy, a space ranger, etc.), mystery/thrillers ('You' are solving a crime or investigating a haunted house, etc.), current affairs ('You' are a government whistleblower, an aide to the president, a revolutionary in Egypt, etc.) and historical ('You' are working on the Manhattan Project, a resistance fighter in WW2, a Native American experiencing the arrival of Columbus, etc.) The bad news is, if we already have something similar in the pipeline, we'll likely refuse another for the time being.
Once you've sent your email, one of our editors will get back to you within a week or two. If you get a green light on your idea, we will ask you to go on to Step 2.
.
Step 2: A decision tree outlining the full proposed story in point form.
Describe what happens to the protagonist on each story page, including each of the 8 endings. The three-page story 'trunk' and the double-page 'branches' may be outlined as one page. Note that the outline does not need to be very detailed, and that parts of the plot may well change later during actual writing. Please refer to the decision tree below as an example. Each story must follow this pagination structure. Note that only odd numbered pages are included in the tree; this is because the even numbered pages are illustration pages.
Please use this MS Word document template for the decision tree.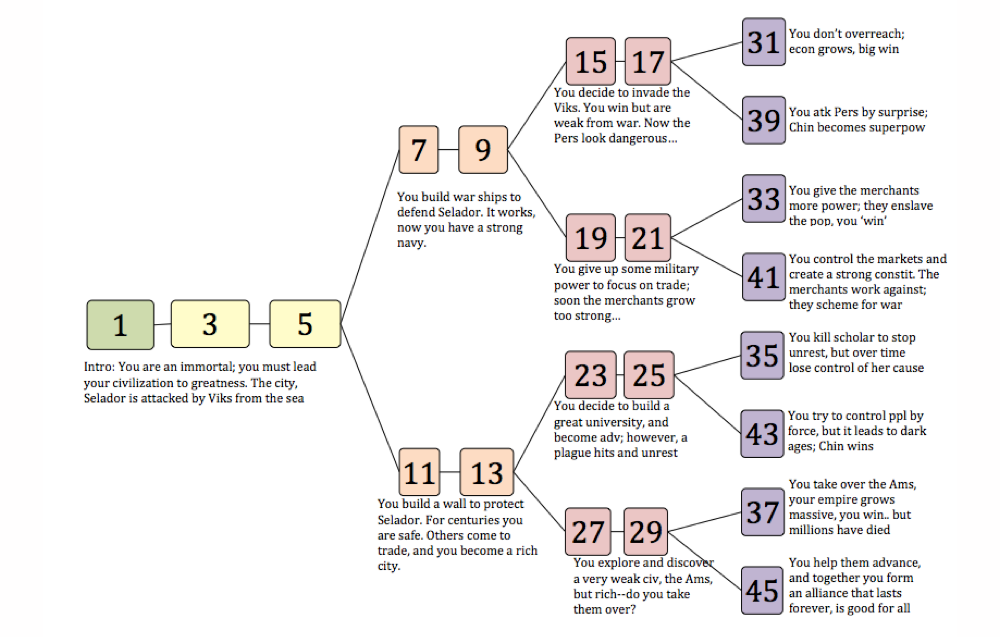 The purpose of Stage 2 is to make sure your story works well within our series guidelines, there is a good balance of interesting choices and endings, and also that there isn't too much complexity which may make the story difficult to fit linguistically into easy English. For instance, every new setting or situation brings with it a range of important vocabulary; therefore, having a story that jumps too much between different settings may not work.
If your decision tree looks good and is green lighted, the third step is to submit us a story opener in the format below.
.
Step 3: Submit a three-page, 300 to 330 word story opener.
This should be written to match as closely as possible the series style and format. In other words, you must start by establishing who the protagonist is ("You are a ~") and, if relevant, what their background or motivation is. Please do this in three consecutive pages of between 100-110 words each. Don't forget to end the third page with the first choice the reader must make. Avoid empty guesses such as "Do you turn left or do you turn right?"; choices which offer a reasonable chance of debate are best.
Please use this MS Word document template for the story opener.
Also take a look at this PDF sampler, which includes the story opener for our first three titles.
The purpose of Step 3 is to verify that you can actually write in the clear, interesting, simple way that is a hallmark of the series.
At this point, if you have been green lighted at each step above, we will make a final decision whether to commission your story or not. If we do commission your story, we will submit to you our standard contract, and you will be asked to proceed to Step 4. At this point, you may also receive further comments and suggestions about how–and by when–to submit your story drafts.
.
Step 4: A full first draft of your story, including all pages, in the requested format.
Please use this MS Word document template for the full paginated story.