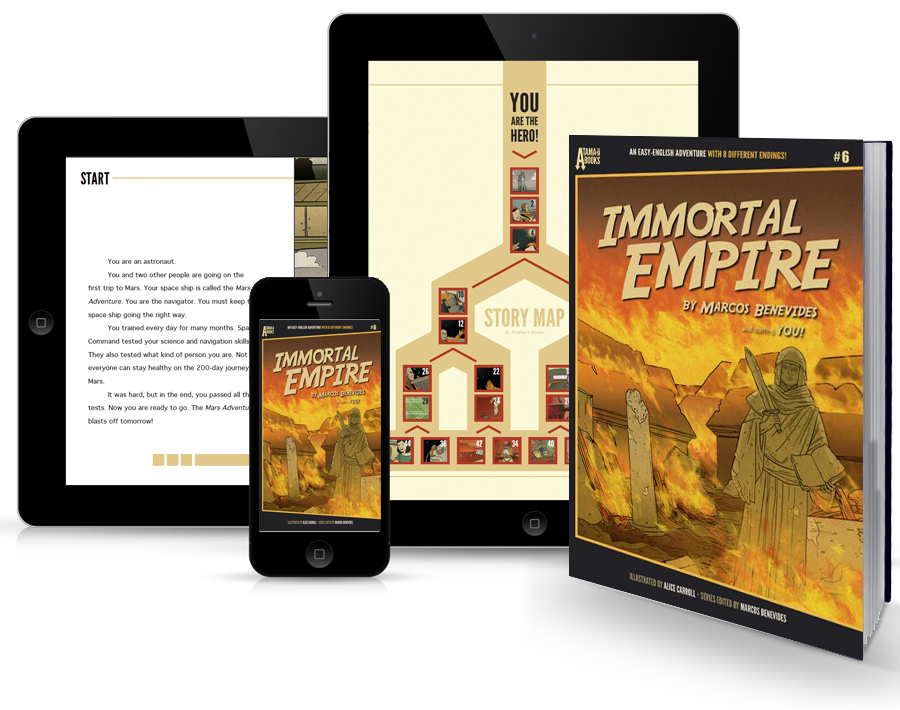 .
LOOK INSIDE IMMORTAL EMPIRE:
(Premium Print edition)




.
Story Map and Keywords on inside covers:

What people are saying about Immortal Empire
REVIEW THIS BOOK! Post a short review of this book online at your favorite retailer—Amazon, Smashwords, Goodreads, iBooks Store, etc.—then email us to let us know, and we'll send you a free ebook in .mobi or .epub format! (To be eligible, reviews must be at least 50 words long.)

Highly engaging and motivating for young learners; fresh, learner-centred, visually attractive and innovatively funded.

The British Council
Product Details
Each title in the Atama-ii series is carefully edited to be at the same easy reading level illustrated above. They are comparable in difficulty with ELT graded readers at the 300 headword level.
Page count: 46 story pages (23 text; 23 illustrations).
Word count: about 2,500 total (each page is 100-110 words).
Number of endings: 8 (each story thread is 16 pages or 800-880 words long)
Glossary: 15-20 keywords per title are glossed with easy English definitions
May contain mild violence, comparable to "PG" movies such as Star Wars. Recommended for ages 11+.


This is what the ebook version looks like on black and white 'e-ink' devices such as the Kindle Voyage, and on color devices running an e-reader app, such as the iPad or a PC. The ebook is the only version in which you can resize the text.
.
Available now:
EBOOK. US$ 2.99  Available from Amazon Kindle, Smashwords, Barnes and Noble, iBooks, Kobo, and other ebook retailers. Ebook versions do not include audio. Amazon or Smashwords
DIGITAL BOOK. Price varies.  SIGN UP FOR A FREE SAMPLE. This is the nicer-looking tablet or computer version. It works across all devices and includes audio. Available in a variety of purchase and subscription models, so prices will vary. GoToReaders.com
PREMIUM PRINT. US$ 7.99  Currently available only in Japan, but our distributors do speak English, and will ship internationally at the lowest available rates. Print versions do not include audio. englishbooks.jp
XREADING. Subscription  This version will be part of the XReading graded reader library, which includes hundreds of books by major and independent publishers on a subscription basis. This version does not include audio. XReading.com
Coming soon:
ECONOMY PRINT. US$ 5.99  Coming soon via Amazon CreateSpace. Same as the premium print version, but on standard paper and with black and white illustrations. Will be available internationally.
Join our newsletter and we'll notify you as new titles and versions become available. We don't spam, we promise!
You might also enjoy these